Trends in Self-Paced Online Learning
Written by Todd Harris
Sunday, 13 September 2009 04:00
People have different visions of the virtual classroom. Trainers like media-rich webinars, while school teachers favor post-and-reply discussion forums to engage students.
Traditionally, businesses have favored computer-based training (CBT) to certify skills and competencies. Employees work through several screens of content, often completing an online quiz at the end. Companies usually don't have teachers on staff, so it makes sense to go the self-paced courseware route.
Educadium's EasyCampus Virtual School Builder system can handle all of the most popular online teaching styles. It's convenient to create learning activities on the fly or import PowerPoints and courseware. In fact, we encourage our campus owners to experiment--mix and match various formats.
Recently, we've seen a trend toward self-paced online courses in the educational field. Teachers want a more efficient and turn-key way to offer distance coursework. Also, they might lack computer skills or need to scale back the time spent online with students. For first-time instructors, a self-paced course is a great initial step into online learning.
Innovative educators are starting to borrow from the corporate field. Course outcomes can be met with carefully crafted self-paced content. Good lesson design and recorded materials reduce the need for an ever-available online instructor. Think of it as the "set it and forget it" style of instructional design. The intelligence of the teacher is there, but it's inside the course materials and layout.
Recently, we worked with Dr. Ardys Reverman, a Portland State University instructor, to create four self-paced courses, all for academic credit. The classes (available at www.friendlyuniverse.com) were built within a custom EasyCampus and range from Managing Innovation to Engaging Diversity.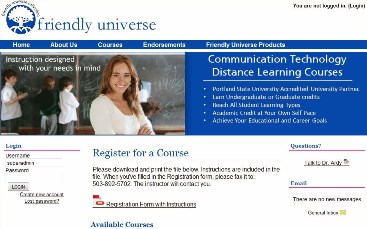 Each module includes directions, a lecture, and a comprehensive quiz. Successful students can print out a certificate of completion. The grades and a course survey are submitted to the university. It's a new kind of educational ecosystem.
Our Professional Services instructional designers kept things simple to ensure all course materials could be updated easily. Dr. Reverman's personality is conveyed through the colorful lecture materials and other multimedia elements like a self-assessment survey. While her formal online presence is limited, she uses email to answer any student questions.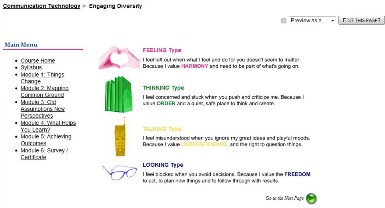 So far, both Dr. Reverman and her graduate students have enjoyed the freedom that the easy-to-use, self-paced courses offer.
There are caveats. Teachers and administrators should expect to spend more time upfront designing a self-paced curriculum--at least a month of prep work. The uploaded materials must be well edited and the course structure should be logical and linear to prevent any student confusion. Course assessments to measure outcomes need to be thought through. In short, plenty of planning and testing are required.
Still, Educadium thinks more and more schools (and trainers) will discover the educational and economic benefits of self-paced course instruction. Live communication with an instructor will never go away. But as educators reimagine the 21st century school, we're thrilled to help offer these new options.
Last Updated on Saturday, 26 September 2009 11:27