Low-Cost E-Learning for Nonprofits
Written by Administrator
Tuesday, 27 April 2010 10:55
Over the past year, Educadium has worked closely with leading organizations, including worthwhile nonprofits and associations.
Through Educadium's EasyCampus LMS platform, our team has helped groups like the Washington Escrow Association design online learning management strategies that are affordable to build and easy to maintain.
Our position is that e-learning shouldn't cause sticker shock or e-learning anxiety. Executive directors and business managers have enough to worry about.
We post our hosted prices, and Educadium is happy to work within strict budget requirements for custom projects--often a fraction of what traditional enterprise vendors charge. There's even a free Express option and low-cost monthly subscriptions for do-it-yourself organizations and trainers.
The word is getting out, and there are several good public mentions this week to share.
At the popular aLearning blog, EasyCampus is cited as an affordable option for associations.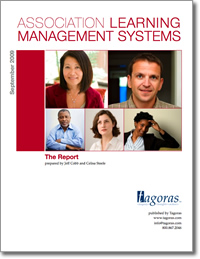 In a similar vein, Jeff Cobb and Celisa Steele of Tagoras are industry experts at choosing learning management systems for associations and nonprofits. Educadium President Todd Harris was interviewed recently by Jeff, and the audio interview and article are available now from the Tagoras website.
The Tagoras post includes some positive words about the convenience and value that EasyCampus brings to an often overpriced learning management space.
Read (and listen) to the entire interview.
Last Updated on Wednesday, 28 April 2010 10:10
A Global Learning Management System
Written by Administrator
Monday, 26 April 2010 00:00
Where are EasyCampus owners? Most anywhere, it seems, and on every continent.
The growth of Educadium's hosted Virtual School Builder platform has been extraordinary this year. And Google Maps shows the picture.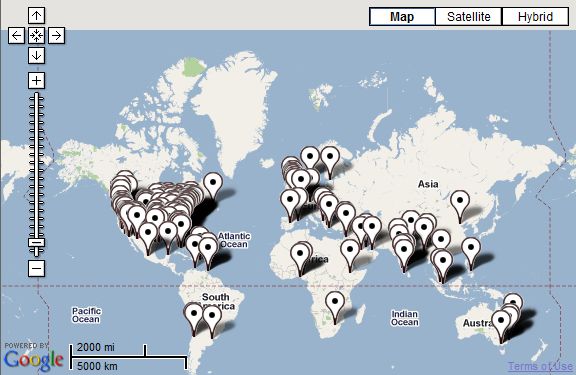 Most EasyCampus schools and training programs are in North American and Europe, where Internet connectivity is plentiful. We have some work to do in South America and Africa so spread the news about EasyCampus. It's free for up to 25 users.
Are you having problems creating or accessing EasyCampus from your country? Let us know. We won't be satisfied until we have an online school in every country and in every language.
Last Updated on Monday, 26 April 2010 19:57
Enhanced E-learning for Your Website
Written by Administrator
Sunday, 18 April 2010 15:34
It's no surprise that most EasyCampus owners already have a website. Many simply link to their EasyCampus virtual school from a homepage or elsewhere. Others go a step further with a "single sign-on" strategy so that users can log in once and move seamlessly from the website into their EasyCampus.
Educadium's Professional Services team is happy to help campus owners design the best integration strategy at the right price.
On occasion, we have educators and trainers that need an improved web presence. Or maybe they don't have a website--the online school will become their primary face to the Internet world. We've been successful in designing an EasyCampus site to serve both general and educational needs, even helping with a customized URL.
Recently, we've extended our learning management platform even further. We're excited to offer EasyCampus Enhanced, a fully integrated content management system build around Joomla and married with our EasyCampus Virtual School Builder system.
EasyCampus Enhanced provides all of the power, scalability, and flexibility most organizations will need for their marketing and learning needs.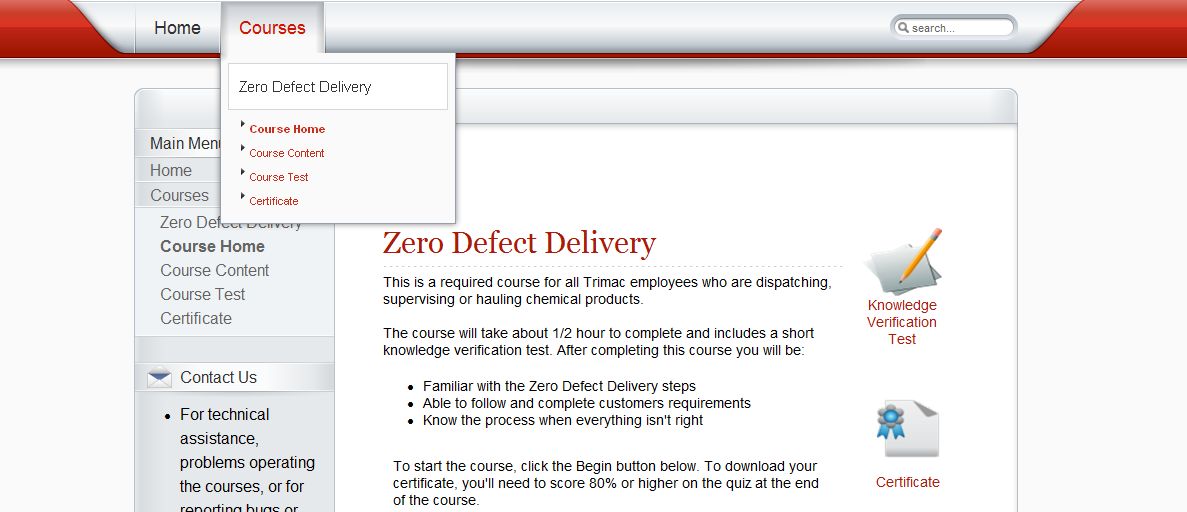 Benefits include:
More varied layout and menu options
Improved website navigation
Powerful content management tools and extensions for administrators
Reduced overhead by combining LMS and CMS functions
EasyCampus Enhanced includes all of the standard learning tools found in EasyCampus--certficates, quiz builders, and course templates.
So if you are juggling website and learning management duties and want to standardize around one platform, EasyCampus Enhanced could be a great choice. We think it looks great--reason enough for design-minded learning organizations who want the best.
For pricing and other details, please contact Educadium's Professional Services team.
Last Updated on Monday, 26 April 2010 19:46
EasyCampus LMS Wizard Upgraded
Written by Administrator
Thursday, 08 April 2010 20:34
Everyone at Educadium believes that it should be easy to create and manage an online school or training program. To help, we've developed the automated Campus Creation Wizard.
Just plug in your email and customized campus details, and you're ready to go. It takes about five minutes to create an EasyCampus Express--a free yet powerful version of the EasyCampus LMS.
Today, we released a number of cosmetic and code changes to speed the Wizard set-up process. A major benefit: faster campus-creation times for more new users.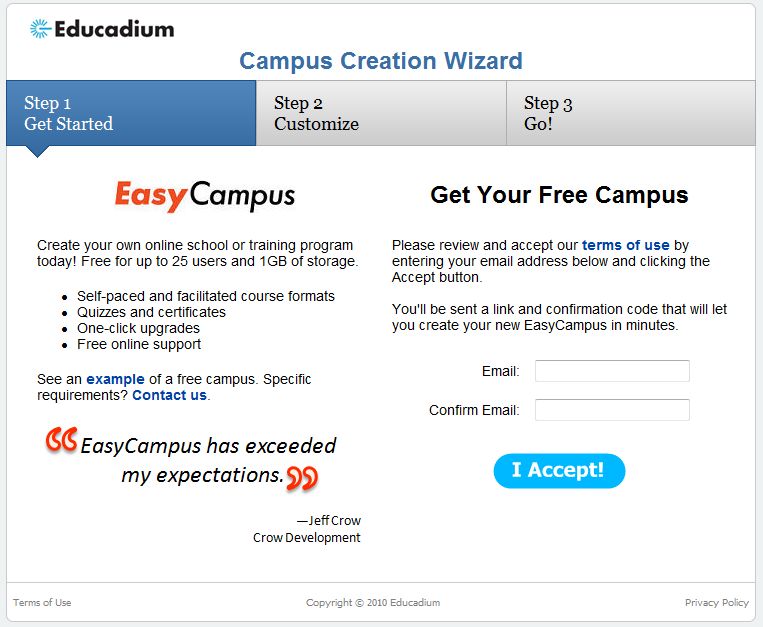 The Wizard lets you select a campus title, description, and URL name. You will also be able to identify the campus administrator, the person who controls access and user registrations for your EasyCampus. There's no credit card required for set up, and your personal information is kept private. Upgrades for more users, storage space, and features are available from inside your new EasyCampus.
If you've thought about creating an online learning program, now's the time. It's free and just one click away.
Six Reasons Why to Upgrade Your EasyCampus
Written by Administrator
Wednesday, 24 March 2010 13:30
Everyday, serious educators from around the world use EasyCampus to create convenient, low-cost online schools, tutoring sites, and training programs. The Express version is free for up to 25 users and has enough features to rival many competing paid versions.
But what happens when your organization expands or has larger needs?
Inside every EasyCampus (in the upper-left corner of the landing page) is an upgrade link that allows you to select three different paid packages--Professional, Community, or Enterprise. Click on the monthly package, pay by credit card or PayPal, and your campus will be updated automatically.

Pricing is based primarily on number of users and storage capacity. The Professional subscription, for instance, costs $29 per month and offers up to 250 total users per month and 2 GB of storage.
Besides additional capacity, subscribers get a lot of extra features, too, which we think are very important to creating a successful online school. These include:
Custom Logo
For subscribers, Educadium will swap out the EasyCampus Express logo with artwork of your choosing. Match your logo with one of our many color themes for a more professional look and feel.
Course Categories
Creating categories is a great capability for growing online programs. If you don't define your course categories, every course will fall under Campus Courses. However, you might wish to clump together a small set of related courses. Categories might include English, History, or Accounting. Your upgraded campus will include this feature in the Site Administration block.
Course Wizard
We find that the easiest way to create a great course is to modify an existing template. If you're new to online teaching or just want to save time, our exclusive EasyCampus Course Wizard is a great tool that helps you build on top of a number of popular course types.
The Wizard will ask you a few questions about the style and length of your course (e.g., a self-paced course with 10 modules). Push a button, and you have a self-named course to work from. You will need to upload your own digital content but at least you have a good foundation from which to start.
Use the Course Wizard to quickly publish other courses of similar type. Our Professional Services team can even design you a custom Course Wizard built to your specifications.
Backup and Restore
Subscribers gain access to the Backup, Restore, and Import options. These will allow you to:
Save a course to your own desktop for safekeeping
Reuse a course structure when building a new course
Or move a course or pieces of a course to another EasyCampus
Languages
Spanish, French, Japanese, or Somali? Your upgraded EasyCampus has more than 75 different language packs to help you create a multilingual campus or course. For language teachers, it's a wonderful capability. Language packs are available in your upgraded Site Administration block.
With the upgrade, users also have the ability to select a language in their own profiles. Note, however, that your newly install language will not translate your own text in a course or block.
Bulk Upload
If you have a lot of new teachers or learners to register, you probably don't want to do it by hand. The bulk upload feature lets you use a spreadsheet program to create a file of users to be uploaded and "read" by the EasyCampus database.
These are just some of the features available to EasyCampus subscribers. For additional questions, email This e-mail address is being protected from spambots. You need JavaScript enabled to view it .
Last Updated on Monday, 10 October 2011 11:50
TRUSTe EU Safe Harbor Seal of Approval
Written by Administrator
Thursday, 11 March 2010 23:48
Internet privacy is a complicated topic, especially in a globalized world. So we're happy to get feedback and recommendations from leading third-party experts.
Today, we announced that Educadium has been certified to display the TRUSTe EU Safe Harbor Privacy Seal.

TRUSTe, the leading online privacy seal and trust assurance service, awards its privacy seal only to companies that pass a rigorous certification process and comply with ongoing oversight, including TRUSTe's dispute resolution process. We join other leading companies that are certified by TRUSTe, including Disney, eBay, Facebook, Intuit, Microsoft and Yahoo.

The TRUSTe EU Safe Harbor Seal is our commitment to protecting the privacy of European and other users through compliance with the EU-U.S. Safe Harbor Framework and participation in TRUSTe's Watchdog Consumer Dispute Resolution service.

For our thousands of EasyCampus users around the world, it's a signal that Educadium takes seriously the privacy and security of mission-critical learning programs. Be sure to review our privacy policy and contact us with any questions.

The complete release about TRUSTe is available here.
Last Updated on Friday, 12 March 2010 00:40
<< Start < Prev 1 2 3 4 5 6 7 8 9

10

Next > End >>


Page 10 of 15