New LMS Account Management Features
Written by Administrator
Monday, 10 May 2010 09:33
EasyCampus gives trainers, educators, and instructional designers the power to create a full-featured online school or training program at a truly affordable cost.
After upgrading to a subscription package (starting at $39/month), EasyCampus owners have access to new administrative features like custom branding, a course wizard, and an unlimited number of courses. If you are on the free Express version, you should seriously consider upgrading in order to enjoy all of the capabilities of EasyCampus.
This month, we have upgraded the subscription versions of EasyCampus to include more powerful account management features. For new subscribers, a My Account module has been added to their site administration panel. This can only be seen by campus administrators (not teachers or learners).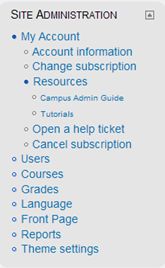 My Account streamlines and consolidates important campus owner and campus admin information into one convenient area (e.g., resource guides and help tickets). It provides easy access to important billing information.
Through daily updates, the new account information area includes:
The names of the campus administrators

Email links to Educadium account management

The name of the subscription package

The campus name

The campus URL

The amount of storage used (in GB)

The number of registered users

The campus creation date
We've also improved the custom branding capabilities of the EasyCampus LMS. Under Theme Settings in the Site Administration panel, there is a new self-service logo selector that lets campus admins upload and place a logo of up to 60 pixels high by 600 pixels wide. Popular file formats like JPEG, BMP, PNG, and GIF are supported.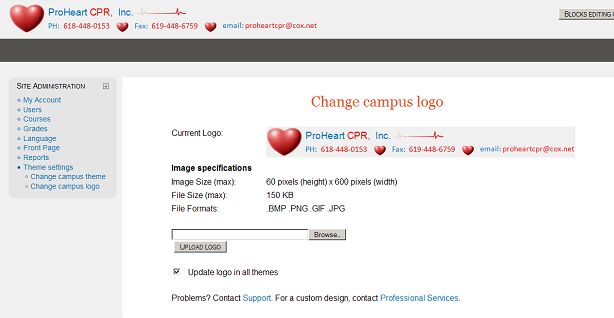 Custom placement and theming can still be ordered through Educadium's Professional Services team. But the new EasyCampus Logo Selector is the perfect no-cost way to brand your campus and online courses.
These features are automatically added to your EasyCampus when you upgrade from a free Express to a paid account. Current EasyCampus subscribers can choose to add these upgrades at no charge. Contact This e-mail address is being protected from spambots. You need JavaScript enabled to view it for details and to make a request.
Last Updated on Monday, 10 October 2011 11:48
EasyCampus System Updates
Written by Administrator
Saturday, 08 May 2010 10:45
Educadium's EasyCampus Virtual School Builder is a hosted learning platform that's been very reliable for our global campus owners and learners.
In 2010, planned and unplanned outages have been virtually nonexistent. Our skilled infrastructure team reports that system uptime is in excess of 99.9%.
But on occasion, it's important to perform server maintenance in order to boost performance and add features. That's happening tonight at 11pm EST/8pm PST (May 8th). EasyCampus will be taken offline for about 5 minutes.
We do not expect this upgrade period to be prolonged, and we apologize for any inconvenience. If you have any questions or concerns, please contact our Customer Support group at This e-mail address is being protected from spambots. You need JavaScript enabled to view it .
Last Updated on Sunday, 09 May 2010 08:41
The LMS Choice for Career Colleges
Written by Administrator
Sunday, 02 May 2010 09:00
Educadium's EasyCampus Virtual School Builder platform supports a number of successful vocational schools. These popular institutions play a crucial role in the future of education and training.
The numbers are compelling.
In the past 30 years, career-college enrollment has grown some 11% per year, compared with an average increase of less than 2% for traditional colleges.
More learners are looking to private-sector career colleges: 3,000 schools educate more than 2.75 million students—roughly 10% of America's higher education students. That's according to Harris Miller, president and CEO of the Career College Association
In short, career colleges are on the front lines of providing relevant education and training for up-and-coming professionals. Strategies for e-learning and hybrid learning will be crucial for these institutions. Internet-connected students want the "anywhere, anytime" access and school administrators like the accountability.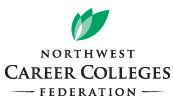 Educadium is proud to announce that we will be exhibiting at the upcoming annual conference for the Northwest Career Colleges Federation. It will be held at the Hilton Hotel from June 16th-18th in Portland, Oregon.
We look forward to seeing many of our partners at this upcoming conference. If you'd like to make an appointment to meet with Educadium and learn how you can incorporate online learning into your school, please contact us today.
Last Updated on Sunday, 02 May 2010 10:52
Low-Cost E-Learning for Nonprofits
Written by Administrator
Tuesday, 27 April 2010 10:55
Over the past year, Educadium has worked closely with leading organizations, including worthwhile nonprofits and associations.
Through Educadium's EasyCampus LMS platform, our team has helped groups like the Washington Escrow Association design online learning management strategies that are affordable to build and easy to maintain.
Our position is that e-learning shouldn't cause sticker shock or e-learning anxiety. Executive directors and business managers have enough to worry about.
We post our hosted prices, and Educadium is happy to work within strict budget requirements for custom projects--often a fraction of what traditional enterprise vendors charge. There's even a free Express option and low-cost monthly subscriptions for do-it-yourself organizations and trainers.
The word is getting out, and there are several good public mentions this week to share.
At the popular aLearning blog, EasyCampus is cited as an affordable option for associations.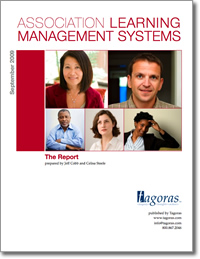 In a similar vein, Jeff Cobb and Celisa Steele of Tagoras are industry experts at choosing learning management systems for associations and nonprofits. Educadium President Todd Harris was interviewed recently by Jeff, and the audio interview and article are available now from the Tagoras website.
The Tagoras post includes some positive words about the convenience and value that EasyCampus brings to an often overpriced learning management space.
Read (and listen) to the entire interview.
Last Updated on Wednesday, 28 April 2010 10:10
A Global Learning Management System
Written by Administrator
Monday, 26 April 2010 00:00
Where are EasyCampus owners? Most anywhere, it seems, and on every continent.
The growth of Educadium's hosted Virtual School Builder platform has been extraordinary this year. And Google Maps shows the picture.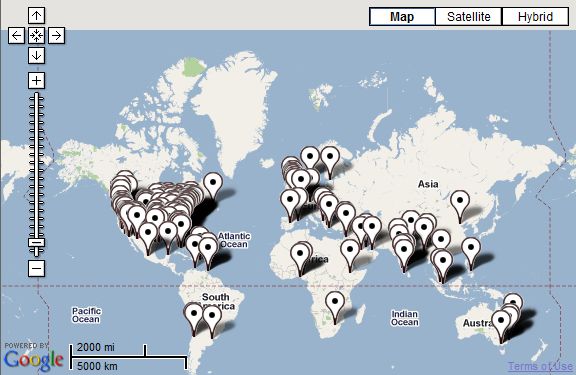 Most EasyCampus schools and training programs are in North American and Europe, where Internet connectivity is plentiful. We have some work to do in South America and Africa so spread the news about EasyCampus. It's free for up to 25 users.
Are you having problems creating or accessing EasyCampus from your country? Let us know. We won't be satisfied until we have an online school in every country and in every language.
Last Updated on Monday, 26 April 2010 19:57
Enhanced E-learning for Your Website
Written by Administrator
Sunday, 18 April 2010 15:34
It's no surprise that most EasyCampus owners already have a website. Many simply link to their EasyCampus virtual school from a homepage or elsewhere. Others go a step further with a "single sign-on" strategy so that users can log in once and move seamlessly from the website into their EasyCampus.
Educadium's Professional Services team is happy to help campus owners design the best integration strategy at the right price.
On occasion, we have educators and trainers that need an improved web presence. Or maybe they don't have a website--the online school will become their primary face to the Internet world. We've been successful in designing an EasyCampus site to serve both general and educational needs, even helping with a customized URL.
Recently, we've extended our learning management platform even further. We're excited to offer EasyCampus Enhanced, a fully integrated content management system build around Joomla and married with our EasyCampus Virtual School Builder system.
EasyCampus Enhanced provides all of the power, scalability, and flexibility most organizations will need for their marketing and learning needs.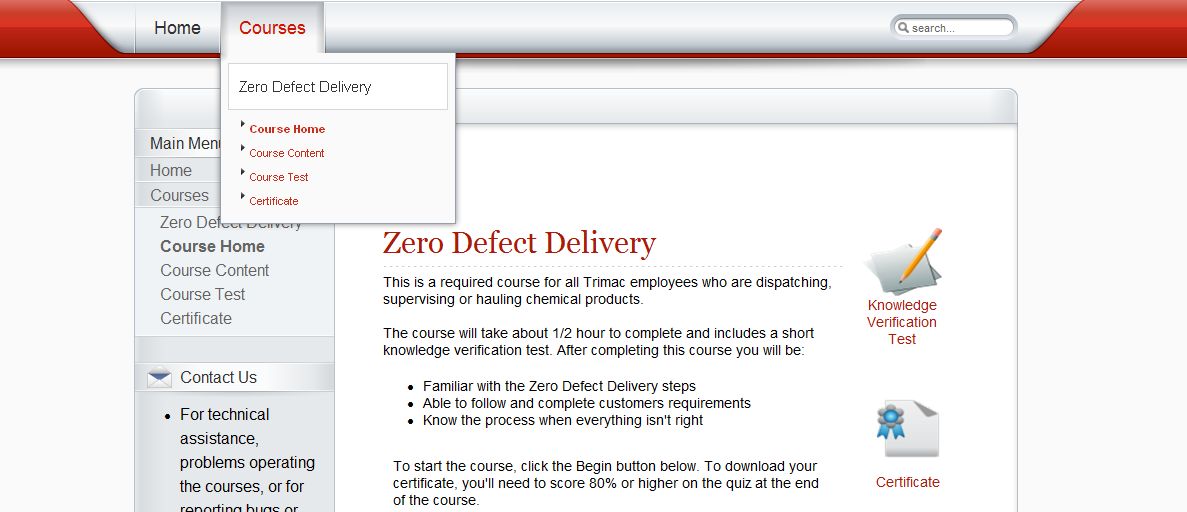 Benefits include:
More varied layout and menu options
Improved website navigation
Powerful content management tools and extensions for administrators
Reduced overhead by combining LMS and CMS functions
EasyCampus Enhanced includes all of the standard learning tools found in EasyCampus--certficates, quiz builders, and course templates.
So if you are juggling website and learning management duties and want to standardize around one platform, EasyCampus Enhanced could be a great choice. We think it looks great--reason enough for design-minded learning organizations who want the best.
For pricing and other details, please contact Educadium's Professional Services team.
Last Updated on Monday, 26 April 2010 19:46
<< Start < Prev 1 2 3 4 5 6 7 8 9

10

Next > End >>


Page 10 of 15