More Support for Online Learning
Written by Administrator
Thursday, 22 July 2010 17:11
The Educadium Support team has been hard at work.
In addition to answering help tickets and questions in about one business day, the hard-working crew continues to update the help materials found on the EasyCampus Support page of our website.
Coming soon will be new video tutorials on major topics of learning interest. These videos will be a great assist for visual learners and administrators who want to get acquainted with EasyCampus functionality. Look for them in the coming weeks.
In the past month, we've also added to our bank of printable step guides. These how-to handouts cover a variety of common issues that our Support desk encounters. Some of the most recent step guides include:
Import ExamView Content
Delete Users/Students
Change Campus URL
Help Tickets System FAQ/Guide
Allow Guests to View Courses
View Awarded Certificates
Use a Credit Card, not a PayPal Balance
Login to Your EasyCampus
Choose a Course Template
Set Permissions on a Block
Delete a Course Template
Work with DropBox Assignments
Work with Discussion Forums
Turn Off Self-Enrollment for a Course
Create a Test Account
Are you having problems with your EasyCampus? Let us know, and we might even create a new step guide to help you and other users. Contact This e-mail address is being protected from spambots. You need JavaScript enabled to view it .

EasyCampus Add-Ons on Sale
Written by Administrator
Saturday, 17 July 2010 11:29
This week, Educadium released several popular (and affordable) new features for our EasyCampus Virtual School Builder system. Available before through our Professional Services group, EasyCampus Add-Ons are now offered as options for sale on the Educadium website.
Each Add-On has been tested to integrate seamlessly with your existing EasyCampus. All work comes with a 90-day limited warranty, a free training webinar, and custom help materials. The best part: We've reduced the prices to under $1,000 for the life of your subscription so learning organizations of all sizes can benefit immediately.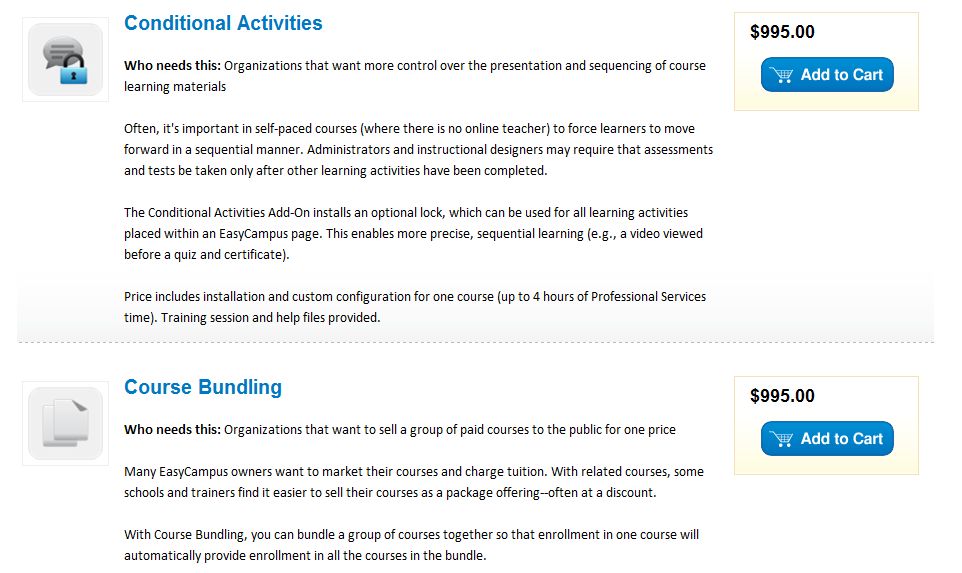 Thanks to the great feedback from our EasyCampus subscribers, we're launching with the following popular Add-Ons:
Enhanced Reporting: Create and track user records based on your own custom criteria, with spreadsheet downloads to your desktop

Conditional Activities: Enable more precise, sequential learning, particularly for self-paced courses

Course Bundling: Package and market tuition courses as a single bundle, with free integration with

CampusPay

e-commerce

Enhanced Support: Get personal support and concierge services for production questions and help issues

Custom URL: Change the name of your EasyCampus for improved branding with three different options
These new Add-Ons can be purchased as a group or separately through an online shopping cart. At launch, there are five popular enhancements available, with more to be added in the coming months. Payments can be made by credit cards or through PayPal. (Custom invoicing is available for approved subscribers.)
So take a look at the Add-Ons page, and consider a quick and easy upgrade for your EasyCampus.
Last Updated on Saturday, 17 July 2010 12:16
E-rate Program Information
Written by Administrator
Tuesday, 29 June 2010 10:48
Sometimes, a small program can have a big impact.
In 1996, as part of the Federal Telecommunications Act, the U.S. government set up a subsidy program to defray the cost of telecommunications services, Internet access and other communications. E-rate is the common term that refers to this "Universal Service" program.
Since 1998, schools and libraries have benefited greatly, with authorized vendors providing discounted access to telecommunications services. Today, more than 90% of all U.S. classrooms are connected to the Internet, with some 82% of public schools and 61% of public libraries receiving E-rate funds. Small and rural schools are big winners.
The Federal E-rate program, managed by the nonprofit Universal Service Administrative Company (USAC), enables eligible schools and libraries to receive funding of up to 90% for new and existing network and telecommunications services. The discounts are based on geography and the number of students who are eligible to participate. Please contact USAC for eligibility rules and updates to the E-rate program.
As a trusted partner to schools and libraries, Educadium has been selected to join the E-rate program. Your school can receive discounts for hosting services and infrastructure related to Educadium's EasyCampus Virtual School Builder LMS.
Our service provider information number (SPIN) is 143034281.
For your school's E-rate initiatives, Educadium is ready to help implement a scalable learning management system and online school or training program. Please contact This e-mail address is being protected from spambots. You need JavaScript enabled to view it for more details.
Last Updated on Tuesday, 29 June 2010 11:36
The Best E-Learning Tools
Written by Administrator
Monday, 21 June 2010 10:18
Educadium's EasyCampus Virtual School Builder LMS is the flexible and convenient way to build a powerful and scalable virtual classroom or online training program. It incorporates features found in the best course management systems--and at a fraction of the cost.
As a top LMS, EasyCampus is winning kudos from nonprofits, businesses, teachers, and trainers looking for value without sacrificing quality.
Recently, eLearn Magazine did a roundup of some of the top e-learning tools. The goal was to identify the "best ways for face-to-face trainers to add a component of e-learning to their repertoire, without the assistance of a fancy IT team or tens of thousands of dollars of investment."
EasyCampus was selected as one of the leading learning management vendors. Starting at just $39/month for up to 500 users, EasyCampus is a great way to build an online learning program.
Read the entire article called Online Learning 101 by Susan Landay. It has some great information and recommendations for trainers, instructional designers, and school administrators.
Last Updated on Monday, 10 October 2011 11:42
Add-Ons To Improve Online Learning
Written by Administrator
Wednesday, 16 June 2010 09:12
Educadium's EasyCampus Virtual School Builder supports thousands of educational, nonprofit and corporate users in dozens of countries. The hosted learning management platform features powerful course templates, discussion forums, quiz-building tools, and password-protected access to learning materials.
Out of the box, EasyCampus is a great way to store and deliver documents, webinars, PowerPoints, and videos to a global audience hungry for convenient access to online learning materials. It's free to get started and complete packages for a branded campus start at just $39/month for up to 500 users.

But wait, there's more, as those late-night infomercials might say. Educadium offers optional add-ons to improve performance and functionality. At the same time, it's another way for you to customize your learning program. EasyCampus Add-Ons are offered through our Professional Services team, so contact us for details. Add-Ons are available only to paid subscribers--another reason to upgrade from the free Express version.
The range of options is varied, and it's easy to mix and match various features. One-time pricing for installation starts at $150 and full costs will depend on the level of customization and engineering required for your learning requirements.
Here are five of our most popular EasyCampus Add-Ons:
Enhanced Reporting. You'll be able to track learners through custom records that capture registration data, quiz scores, course revenues, enrollment dates, and more. Data is compiled in near real time, and you can download a spreadsheet to your desktop for further analysis. Reporting is crucial for many accredited learning programs, so we always recommend this Add-On.
Course Bundling. Do you need to sell an entire program comprised of several courses? You may need course bundling. This allows you to create groups of courses and sell them for one low price. Payments are handled through our CampusPay e-commerce system, which allows for credit cards or PayPal transactions.
Conditional Activities. With self-paced learning, you often want to track the progress of your learners and keep them from taking a quiz or getting their certificate before completing certain activities or reviewing a PowerPoint. For complete control of your learning activities, you need the Conditional Activities Add-On.
Custom Course Template. The EasyCampus Course Wizard comes preloaded with five powerful course templates for creating self-paced or facilitated courses. It's the fastest way we know how to create an effective online course with multiple lessons. But sometimes, an organization wants to create a custom course with specific learning activities and be able to replicate it quickly. With our Custom Template Add-On, we can help design and then add a custom course template to your Course Wizard.
Enhanced Customer Support. Enhanced Support goes beyond Educadium's much touted unlimited online help ticket support. Get production help and phone assistance for up to 120 minutes every month. Need help or advice in laying out a course or entire online program? Just call. Plans start at $995/6 months, and we can customize a support program to suit the needs of your organization.
There are more EasyCampus Add-Ons available, including registration and enrollment tools. So drop us a line, and we'd be happy to show you how to super-charge your EasyCampus today.
Last Updated on Monday, 10 October 2011 11:46
Distance Learning News and LMS Usage
Written by Todd Harris
Thursday, 10 June 2010 09:16
There is an interesting report about online learning released this week from the Software and Information Industry Association (SIIA).
The SIIA describes how the traditional learning management system (LMS) has changed in educational institutions. K-12 mobile device sales are growing 200% a year. With the influx of these new technologies, particularly low-cost netbooks, the role of the LMS has shifted from controlling learning to augmenting a diverse edu-tech environment.

One in five schools and districts that don't already offer online courses expect to do so in the next two school years. Much of this usage won't be pure distance courses but hybrid learning, where students are engaged in both classroom and online activities. Indeed, we think hybrid courses will become the norm, bridging traditional education with digital devices and learning management platforms.
Certainly, students like the social networking opportunities of technology in the classroom. But will traditional teachers take to it? We see adoption of hybrid learning fastest at independent and religious schools, where the demand for innovative solutions outpaces the supply of bureaucratic inertia.
With fall term just around the corner, school administrators should ask themselves: Do I have the right kind of learning technologies and teacher-training programs in place? If you haven't developed an LMS or hybrid learning strategy, summer is a good time to begin the planning and implementation process.
Review the options, including Educadium's all-inclusive and affordable Virtual School Box package using the EasyCampus Virtual School Builder platform. It includes consulting services and hosting to help even the smallest school create a professional online learning program.
Last Updated on Thursday, 10 June 2010 10:40
<< Start < Prev 1 2 3 4 5 6 7

8

9 10 Next > End >>


Page 8 of 15