Improvements for the EasyCampus LMS
Written by Administrator
Saturday, 09 October 2010 08:30
Recently, Educadium carried out a large update to our EasyCampus Virtual School Builder platform. Benefits include more affordable, templated features and new pricing packages, available to prospective and existing EasyCampus users.
At the same time, we made a number of small but significant changes to improve performance and to squash a few bugs. It's all part of Educadium's ongoing commitment to build and maintain the best and most affordable learning management system.

Updates and Upgrades:
Improved the Subscription Upgrade page for existing campuses to allow campus owners to
select new pricing packages. A link is available to admins within every EasyCampus
Improved course backup/restore capabilities so that HTML blocks can now be restored correctly
Installed a new logo refresh capability to alleviate browser cache issues associated with the logo upload tool
EasyCampus Bug Fixes:
Notification functionality fixed to prevent faulty error messages
Gradebook error fixed so that course quizzes in selected courses report more accurately
Error messages fixed so that they don't contain faulty links
Miscellaneous language fixes for grammatical errors or misleading information
Miscellaneous theme updates to fix small CSS errors
On the horizon, expect to see a major update to the text-based help files visible across the EasyCampus system. It was a major support project, but this will improve the on-screen help available to campus administrators and users. These new help files will be pushed out to all existing EasyCampus installations in the coming weeks.
Of course, we continue to enhance our publicly available Support pages. If you haven't visited this area, filled with step guides and videos, we encourage you to do so, especially in advance of building your first courses.
Thanks to all of our users for their feedback. It's helping us improve EasyCampus for educators and trainers around the world.
Last Updated on Saturday, 09 October 2010 09:17
New Pricing Options for EasyCampus
Written by Administrator
Saturday, 25 September 2010 08:15
Educadium has some exciting new updates to share. Online learning has just gotten a little easier.
This summer, we rolled out a new online store for our EasyCampus Add-Ons. These Add-Ons, such as Google Apps Integration and Enhanced Reporting, are now available for purchase (most for under $1,000). They come with a 90-day limited warranty and the full support of our Professional Services team.
Now, we have gone a step further and incorporated and streamlined some of the most popular Add-Ons and services into several convenient (and powerful) subscription packages.
This has resulted in some name changes to our offerings with three, more distinct tiers of subscriptions--Standard, Preferred and Premium. We still offer the free "Express" and custom-built packages.
The older Professional, Community, and Enterprise subscriptions have now become part of the Standard subscription--at the same low price starting at $39/month for up to 500 registered users. All new subscription bundles are available today in a variety of user configurations and payment options.
What's different about the new plans? EasyCampus owners can now start off with more popular features through the Preferred and Premium subscriptions, saving valuable time and money.
We think the best value by far is with the Preferred subscription. Starting at just $99/month for 500 users, the new Preferred packages comes pre-installed with some high-quality and useful features:
Enhanced Reporting
Conditional Activities
Course Bundles
Form Maker
For small and large organizations who need more service, support, and professional branding, we offer the Premium subscription. Starting at $99/month for 250 users, the new Premium package includes:
Everything in the Preferred package
Additional Admin Training and Resources
Custom Theme and URL
Inside your existing EasyCampus in the My Account area, you can upgrade at any time to the new packages with pricing based on the number of expected users. A complete description is found on our Pricing page, where you can sign up for an EasyCampus with a credit card or through PayPal.
If you're a current EasyCampus subscriber, no action is necessary. Feel free to see if one of the newer bundles meets your needs or add additional accounts as needed for your newly named Standard package. Add-Ons and custom services are still available to all EasyCampus owners.
If you're an Express user or are new to EasyCampus, please contact Educadium Support with any questions about the new tiered offerings. We're also happy to arrange a webinar for all prospective and current customers to review all of the options.
Last Updated on Monday, 10 October 2011 11:41
Google Apps for EasyCampus
Written by Administrator
Tuesday, 27 July 2010 17:53
Today, Educadium released three new Add-Ons for our EasyCampus Virtual School Builder Platform. These optional services provide additional power and flexibility to one of the world's best values in learning management systems. They are available in the EasyCampus Add-On store on the Educadium website.
So what's new? Plenty. We're excited to offer our first Google Add-On. The newest offerings include:
Google Apps Integration ($1,995). Organizations want seamless access to their Google Apps and user accounts within EasyCampus. This is ideal for many schools where Google tools are used. The powerful Add-On integrates a variety of Google services (Google Docs, Google Calendar, and Gmail) and enables seamless cross-authentication within your EasyCampus.
Session Tracking ($995). Educators and trainers often need to estimate online "seat time" for compliance or regulatory purposes. The Session Tracking Add-On lets administrators add a block to any EasyCampus course in order to track session time based on user click activity. The data of all registered user session times can be downloaded for record-keeping.
Form Maker ($495). There are many uses for the versatile Form Maker Add-On. Educators and administrators often need to collect information about users before they enroll them in online courses. Form Maker makes it easy to create simple or advanced forms for registration or course-related purposes. Collected data can then be downloaded as a spreadsheet.

These new Add-Ons solve real-world learning concerns, and we're happy to offer them to our subscribers. Pricing includes installation, training, and documentation. Visit the Add-On page today for more information. Or contact support@educadium if you have further technical questions.
More Support for Online Learning
Written by Administrator
Thursday, 22 July 2010 17:11
The Educadium Support team has been hard at work.
In addition to answering help tickets and questions in about one business day, the hard-working crew continues to update the help materials found on the EasyCampus Support page of our website.
Coming soon will be new video tutorials on major topics of learning interest. These videos will be a great assist for visual learners and administrators who want to get acquainted with EasyCampus functionality. Look for them in the coming weeks.
In the past month, we've also added to our bank of printable step guides. These how-to handouts cover a variety of common issues that our Support desk encounters. Some of the most recent step guides include:
Import ExamView Content
Delete Users/Students
Change Campus URL
Help Tickets System FAQ/Guide
Allow Guests to View Courses
View Awarded Certificates
Use a Credit Card, not a PayPal Balance
Login to Your EasyCampus
Choose a Course Template
Set Permissions on a Block
Delete a Course Template
Work with DropBox Assignments
Work with Discussion Forums
Turn Off Self-Enrollment for a Course
Create a Test Account
Are you having problems with your EasyCampus? Let us know, and we might even create a new step guide to help you and other users. Contact This e-mail address is being protected from spambots. You need JavaScript enabled to view it .

EasyCampus Add-Ons on Sale
Written by Administrator
Saturday, 17 July 2010 11:29
This week, Educadium released several popular (and affordable) new features for our EasyCampus Virtual School Builder system. Available before through our Professional Services group, EasyCampus Add-Ons are now offered as options for sale on the Educadium website.
Each Add-On has been tested to integrate seamlessly with your existing EasyCampus. All work comes with a 90-day limited warranty, a free training webinar, and custom help materials. The best part: We've reduced the prices to under $1,000 for the life of your subscription so learning organizations of all sizes can benefit immediately.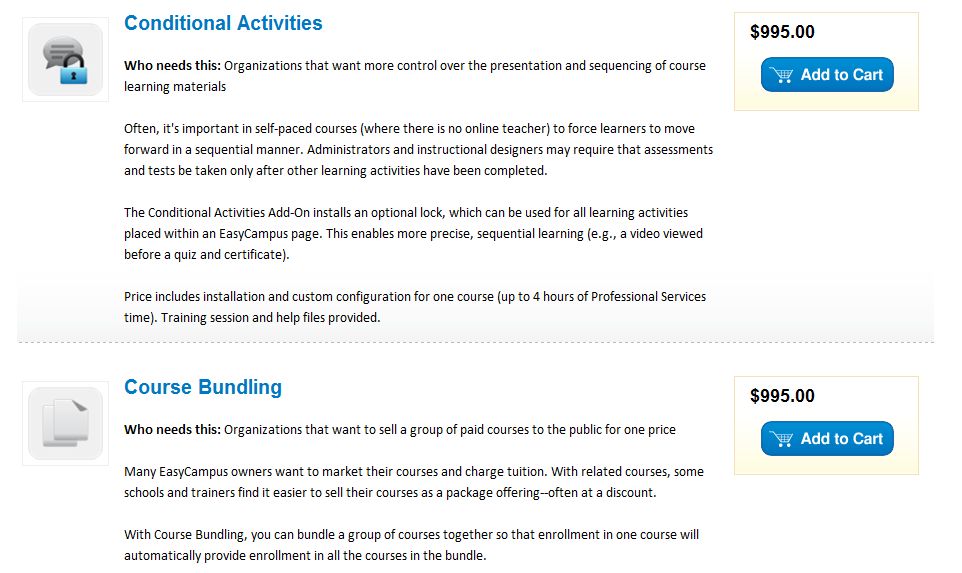 Thanks to the great feedback from our EasyCampus subscribers, we're launching with the following popular Add-Ons:
Enhanced Reporting: Create and track user records based on your own custom criteria, with spreadsheet downloads to your desktop

Conditional Activities: Enable more precise, sequential learning, particularly for self-paced courses

Course Bundling: Package and market tuition courses as a single bundle, with free integration with

CampusPay

e-commerce

Enhanced Support: Get personal support and concierge services for production questions and help issues

Custom URL: Change the name of your EasyCampus for improved branding with three different options
These new Add-Ons can be purchased as a group or separately through an online shopping cart. At launch, there are five popular enhancements available, with more to be added in the coming months. Payments can be made by credit cards or through PayPal. (Custom invoicing is available for approved subscribers.)
So take a look at the Add-Ons page, and consider a quick and easy upgrade for your EasyCampus.
Last Updated on Saturday, 17 July 2010 12:16
E-rate Program Information
Written by Administrator
Tuesday, 29 June 2010 10:48
Sometimes, a small program can have a big impact.
In 1996, as part of the Federal Telecommunications Act, the U.S. government set up a subsidy program to defray the cost of telecommunications services, Internet access and other communications. E-rate is the common term that refers to this "Universal Service" program.
Since 1998, schools and libraries have benefited greatly, with authorized vendors providing discounted access to telecommunications services. Today, more than 90% of all U.S. classrooms are connected to the Internet, with some 82% of public schools and 61% of public libraries receiving E-rate funds. Small and rural schools are big winners.
The Federal E-rate program, managed by the nonprofit Universal Service Administrative Company (USAC), enables eligible schools and libraries to receive funding of up to 90% for new and existing network and telecommunications services. The discounts are based on geography and the number of students who are eligible to participate. Please contact USAC for eligibility rules and updates to the E-rate program.
As a trusted partner to schools and libraries, Educadium has been selected to join the E-rate program. Your school can receive discounts for hosting services and infrastructure related to Educadium's EasyCampus Virtual School Builder LMS.
Our service provider information number (SPIN) is 143034281.
For your school's E-rate initiatives, Educadium is ready to help implement a scalable learning management system and online school or training program. Please contact This e-mail address is being protected from spambots. You need JavaScript enabled to view it for more details.
Last Updated on Tuesday, 29 June 2010 11:36
<< Start < Prev 1 2 3 4 5 6 7

8

9 10 Next > End >>


Page 8 of 15