Managing Your Course Certificates
Written by Administrator
Sunday, 05 December 2010 10:23
Online learners like certificates.
More than a grade, certificates provide a visual and downloadable confirmation of success after completing a virtual class. For administrators and course creators, they can be linked to quizzes and other assessments, offering another way to track compliance.
We're happy to announce a new tool for EasyCampus owners. It's an Add-On called the Certificate Viewer and provides administrators and students with convenient on-screen access to all certificate data across an entire EasyCampus.
When installed, the Certificate Viewer is placed on your landing page and can be inserted as an HTML block anywhere on your EasyCampus. Learners view only their own certificates. Administrators can also restrict user access altogether.
You can purchase this useful Add-On for $495 by visiting Educadium's online store. Every EasyCampus Add-On comes with installation, training materials, and a 90-day limited warranty. So take a look at the Certificate Viewer and the many other EasyCampus Add-Ons that can super-charge your learning management system.
Last Updated on Sunday, 05 December 2010 12:34
Learning Management in the Cloud
Written by Administrator
Thursday, 18 November 2010 12:41
This week, we announced an exciting development: the final implementation of our EasyCampus Learning Management Cloud, an improved hosting infrastructure built on the Amazon Elastic Compute Cloud (Amazon EC2).
New and existing EasyCampus customers and learners now benefit (at no extra charge) from the security and scalability offered by an EasyCampus LMS cloud platform--whether 25 users or more than 25,000.

Educadium's advanced EasyCampus Learning Management Cloud features:

• Faster content delivery with Amazon's CloudFront service
• Lower latency and higher throughput using distributed datacenters
• Reduced maintenance periods and outages with virtualized servers
• Secure backups through decentralized data storage with Amazon Elastic Block Store
• Faster page loads for international customers through decentralized worldwide DNS
• A custom developed software architecture based on the most recent LMS research
The bottom line is better performance at a lower cost for learning organizations of all sizes. Rest assured that secure, reliable LMS hosting is something we take very seriously. For the complete news release, click here.
Last Updated on Thursday, 18 November 2010 13:13
Tracking Online Learner Progress
Written by Administrator
Thursday, 11 November 2010 14:28
At Educadium, we're always trying to make our EasyCampus Virtual School Builder platform more powerful and convenient.
Recently, we added a handy Learner Progress Bar tool to our EasyCampus Add-Ons store. When installed on your EasyCampus, the colorful Progress Bar is a visual way for your learners to monitor their success within an EasyCampus course. Course creators can let students track:
Assignment submissions
Forum postings
Quiz attempts
Choice answers
Feedback survey responses
Various pages viewed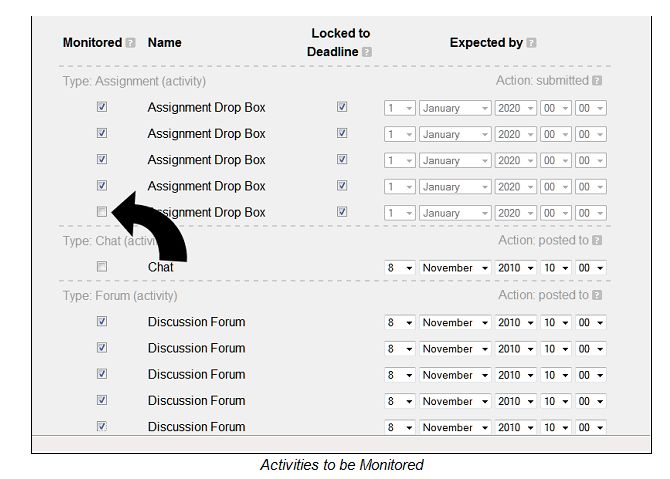 Your students will benefit from an intuitive activity-checkmark system within your courses. Due dates for activities are also displayed.

The Learner Progress Bar costs $495 to install, and you can make it visible on all of your courses. As with every EasyCampus Add-On, it includes a training session and our full support, including a 90-day limited warranty. It's worth checking out!
Last Updated on Thursday, 11 November 2010 15:00
New Training Site for EasyCampus Users
Written by Administrator
Saturday, 30 October 2010 10:53
People learn differently.
That's especially true when it comes to software and learning management platforms. Some users want step-by-step written guides, while others seek out video tutorials.
We get it. The EasyCampus Support team has put together a range of materials to help you build the best online school and training platform in the world. Plus, there's always free online LMS help when you need it.
Now, we're excited to take online instruction to the next level. We call it EasyCampus Learn, and it's coming in November. EC Learn is a stand-alone training site to help you build out a world-class learning program using EasyCampus and other innovative tools.

What can you expect?
Free and advanced courses for trainers and admins
Learning management administration tips
Online course design and instruction
EasyCampus tutorials
A user community forum
Other self-help and support
Several new online courses will make it easier than ever to roll out training programs and virtual schools using EasyCampus. "Create a Self-Paced Course," for instance, will help you: plan your courses easily and effectively; design the structure of your self-paced course; add content such as media and other external elements; and test the course to be sure it works before you allow students to enter.
Educadium expects to offer a variety of free and paid courseware, along with a range of other support materials. We think it will be a great addition to our fast-growing EasyCampus community, which now spans the globe. Stay tuned!
Last Updated on Saturday, 30 October 2010 11:30
Improvements for the EasyCampus LMS
Written by Administrator
Saturday, 09 October 2010 08:30
Recently, Educadium carried out a large update to our EasyCampus Virtual School Builder platform. Benefits include more affordable, templated features and new pricing packages, available to prospective and existing EasyCampus users.
At the same time, we made a number of small but significant changes to improve performance and to squash a few bugs. It's all part of Educadium's ongoing commitment to build and maintain the best and most affordable learning management system.

Updates and Upgrades:
Improved the Subscription Upgrade page for existing campuses to allow campus owners to
select new pricing packages. A link is available to admins within every EasyCampus
Improved course backup/restore capabilities so that HTML blocks can now be restored correctly
Installed a new logo refresh capability to alleviate browser cache issues associated with the logo upload tool
EasyCampus Bug Fixes:
Notification functionality fixed to prevent faulty error messages
Gradebook error fixed so that course quizzes in selected courses report more accurately
Error messages fixed so that they don't contain faulty links
Miscellaneous language fixes for grammatical errors or misleading information
Miscellaneous theme updates to fix small CSS errors
On the horizon, expect to see a major update to the text-based help files visible across the EasyCampus system. It was a major support project, but this will improve the on-screen help available to campus administrators and users. These new help files will be pushed out to all existing EasyCampus installations in the coming weeks.
Of course, we continue to enhance our publicly available Support pages. If you haven't visited this area, filled with step guides and videos, we encourage you to do so, especially in advance of building your first courses.
Thanks to all of our users for their feedback. It's helping us improve EasyCampus for educators and trainers around the world.
Last Updated on Saturday, 09 October 2010 09:17
New Pricing Options for EasyCampus
Written by Administrator
Saturday, 25 September 2010 08:15
Educadium has some exciting new updates to share. Online learning has just gotten a little easier.
This summer, we rolled out a new online store for our EasyCampus Add-Ons. These Add-Ons, such as Google Apps Integration and Enhanced Reporting, are now available for purchase (most for under $1,000). They come with a 90-day limited warranty and the full support of our Professional Services team.
Now, we have gone a step further and incorporated and streamlined some of the most popular Add-Ons and services into several convenient (and powerful) subscription packages.
This has resulted in some name changes to our offerings with three, more distinct tiers of subscriptions--Standard, Preferred and Premium. We still offer the free "Express" and custom-built packages.
The older Professional, Community, and Enterprise subscriptions have now become part of the Standard subscription--at the same low price starting at $39/month for up to 500 registered users. All new subscription bundles are available today in a variety of user configurations and payment options.
What's different about the new plans? EasyCampus owners can now start off with more popular features through the Preferred and Premium subscriptions, saving valuable time and money.
We think the best value by far is with the Preferred subscription. Starting at just $99/month for 500 users, the new Preferred packages comes pre-installed with some high-quality and useful features:
Enhanced Reporting
Conditional Activities
Course Bundles
Form Maker
For small and large organizations who need more service, support, and professional branding, we offer the Premium subscription. Starting at $99/month for 250 users, the new Premium package includes:
Everything in the Preferred package
Additional Admin Training and Resources
Custom Theme and URL
Inside your existing EasyCampus in the My Account area, you can upgrade at any time to the new packages with pricing based on the number of expected users. A complete description is found on our Pricing page, where you can sign up for an EasyCampus with a credit card or through PayPal.
If you're a current EasyCampus subscriber, no action is necessary. Feel free to see if one of the newer bundles meets your needs or add additional accounts as needed for your newly named Standard package. Add-Ons and custom services are still available to all EasyCampus owners.
If you're an Express user or are new to EasyCampus, please contact Educadium Support with any questions about the new tiered offerings. We're also happy to arrange a webinar for all prospective and current customers to review all of the options.
Last Updated on Monday, 10 October 2011 11:41
<< Start < Prev 1 2 3 4 5 6

7

8 9 10 Next > End >>


Page 7 of 15